Today it is possible to preserve youth and attractiveness without invasive procedures. The beauty salon "El grial salon" in Alicante offers muscle toning of the face on modern equipment. Features and benefits of the procedure...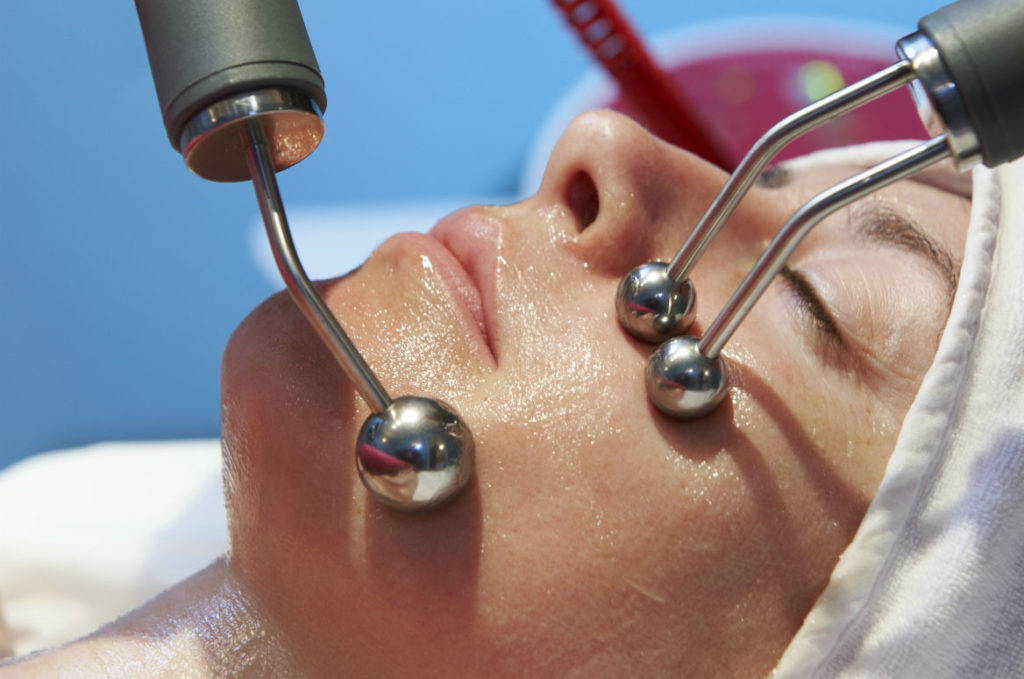 Procedure for non-surgical correction of age changes, improve contours of the face, eliminate wrinkles. It is the impact on the fabric of pulsed currents (15 mA, 30-150 Hz), causing activation of metabolic processes, the improvement in tone of muscle fibers.
Name of service

Время

, min.
Price, €.
Mechanical cleaning of the face,

ультразвуковая

Mechanical cleaning of the face (

демакияж

+

чистка

+ mask + cream)
90 min.
40

Чистка лица ультразвуковая

(

демакияж

+

чистка

+ mask + cream)
90 min.
40

Чистка лица комбинированная

(

механическая

+

ультразвуковая

)
120 min.
50

Микротоковый дренаж

(

рукавицы

):

Лифтинг кожи

, facelift,

лимфодренаж

,

массаж лица и тела

.
20 min.
15

Микротоки лица

, neck, neckline (

электроды

):

Лифтинг кожи

, facelift,

лимфодренаж

, massage.
60 min.
30

Миостимуляция лица и тела

(

электроды

):

Лифтинг кожи

, facelift,

восстановление мышечного тонуса

.
60 min.
30
Phonophoresis:

Насыщение кожи питательными препаратами

–

ультразвуковая электропорация

.
60 min.
30
Microdermabrasion: Diamond skin polishing (

демакияж

+ peeling + cream).
60 min.
30
Intraceuticals rejuvenate facial:

Насыщение кожи гиалуроновой кислотой

–

ультразвуковая электропорация

.
60 min.
30

Кислородная мезотерапия лица

:

Насыщение кожи гиалуроновой кислотой

–

под давлением кислородного потока

.
30 min.
30
Indications for myostimulation person:
wrinkles;
swelling;
ptosis of soft tissues;
flabby, loose skin;
excess body fat;
"bags" under the eyes.
Stimulation is contraindicated in persons: diseases of the blood, systemic circulation, kidney and liver failure, tuberculosis, acute infectious processes and skin diseases in the affected area, during pregnancy, tumors, the presence of a pacemaker, hypersensitivity to current, epilepsy, trigeminal neuralgia.
Usually before the procedure perform facial peels to improve the penetration of current. Electrodes are applied to the so-called motor points. Muscle toning facial lasts 30-45 min., during it the patient may feel a slight tingling. The course is 10-12 procedures.
Effect myostimulation person:
the restoration of skin turgor;
wrinkles;
improving contours of the face;
elimination of puffiness;
the improvement in skin color;
normalization of muscle tone of the upper eyelid;
activation of regenerative processes in the skin;
the emergence of "collagen" skin;
elimination of double chin.
Face myostimulation — procedure cumulative effect. At the beauty salon "El grial salon" it is done by experienced beauticians with modern equipment. A course of treatments and duration of treatment are selected individually.